Midland, Texas Prepaid Electricity
Midland Prepaid Electricity Plans for 6 and 12 Months: In the current economic climate, numerous Texans face unexpected challenges, impacting their credit scores due to job and health setbacks. Consequently, many electric providers demand hefty upfront deposits before initiating service. However, there's good news! Now, you can swiftly activate your power without shelling out massive deposits. Trust our two decades of serving Texas with reliable electricity solutions.
In today's challenging economic times, many Texans are experiencing drops in their credit scores due to unexpected health and job issues. Traditional electric companies often require huge upfront deposits before activating power, making it difficult for many Texans to get the lights turned on. But with Texas Prepaid Lights, there's no need to worry about high deposits. Everyone is approved and payments can be made online or at hundreds of locations where Money Gram is accepted.
We've been providing prepaid electricity service in Texas for over 20 years, so you can trust us to get the job done quickly and efficiently. Plus, with daily account updates by text or email, you'll always be in the know about your electric usage and balance. Choose Texas Prepaid Lights for a hassle-free way to get your electricity turned on.
Don't let financial hurdles dim your lights. Choose our prepaid electricity plans and enjoy the convenience and peace of mind without breaking the bank. Contact us today and experience our exceptional service in delivering electricity solutions tailored to your needs.
Looking for the fastest and most affordable prepaid electricity in Midland?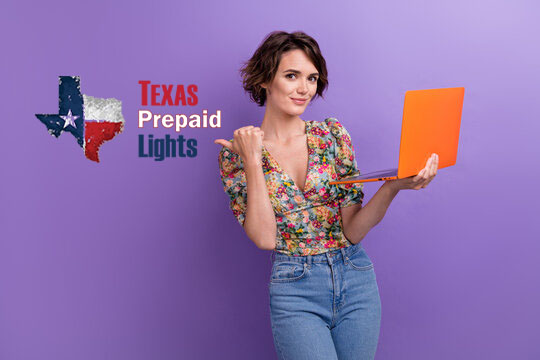 Here's what we offer:
No credit check, no deposit required
No ID required
$40 connection balance to start
Everyone is approved
Same-day connection usually in 1 to 3 hours
Daily account updates via text
Automatic billing
Convenient online payment using your credit or debit card
Cash payments accepted at Ace Cash Express, Walmart, CVS, 7 Eleven, and all MoneyGram locations.
Texas Based and Texan Friendly Phone Customer Service.
Midland Electric Rate Guide
Electric rates in Midland, TX are provided for comparison purposes and may change without prior notice. The final pricing for customers will be determined upon signing an electric provider's service agreement. It's important to note that not all cities in our service areas offer electric choice, and our pricing is based on regional rates.
The average price per kWh is displayed for each of our retail electric providers and is calculated based on a monthly usage of 2,000 kWh, including both fixed and variable local charges. These prices are examples derived from typical usage patterns. Your actual average price for electric service will vary depending on your specific electricity consumption.
All rates are sourced from the "Electricity Facts Label" of each retail electric provider. Please be aware that Midland electricity service offers can come in fixed or variable forms, and a variable rate may change during your contract. In contrast, a fixed rate provides a guaranteed price for the duration of the plan.