Houston - Prepaid Electricity
If you're looking for prepaid electricity plans in Houston, Texas Prepaid Lights™ has got you covered. We offer 6-month and 12-month prepaid electric plans that are tailored to suit your requirements, and the best part is that we don't require any deposit from you. We understand that unforeseen employment or health issues can lead to credit score drops, which can make it challenging for many Texans to activate postpaid power services with Houston electricity companies that demand significant upfront deposits. At Texas Prepaid Lights, we simplify the process of getting prepaid electricity turned on and operational in just one to three hours, without imposing any substantial deposit fees. Our top priority is your satisfaction, and we show it by providing same-day prepaid electric service with connection in just 1 to 3 hours. Moreover, we don't ask for a credit check or ID, making it a hassle-free prepaid electricity experience in Houston. Choose Texas Prepaid Lights for peace of mind and uninterrupted electricity supply.
Call us today at 1.833.741.2435 to get started!
Here's what we offer:
No credit check, no deposit required
No ID required

$40 connection balance to start

Everyone is approved
Same-day connection usually in 1 to 3 hours
Daily account updates via text
Automatic billing
Convenient online payment using your credit or debit card
Cash payments accepted at Ace Cash Express, Walmart, CVS, 7 Eleven, and all MoneyGram locations.
Texas Based and Texan Friendly Phone Customer Service.

Save on Houston, Tx Prepaid Electricity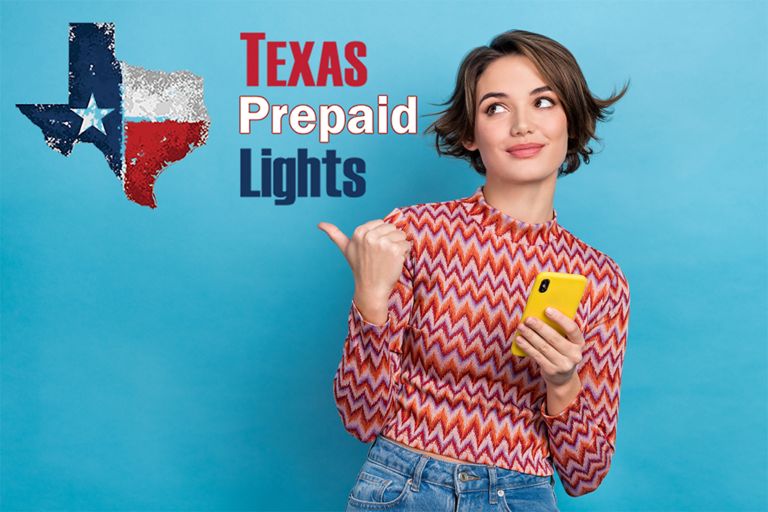 Houston Prepaid Electric Rate Guide
Houston Prepaid Electricity rates are for comparison purposes only and are subject to change without notice. Customer pricing will be final only after signing an electric provider's service agreement. Not all of the cities in our service areas have prepaid electric choice and our pricing is based on area rates.
The average price per kWh is displayed for each of our retail electric providers and is based on 2,000 kWh per month usage. It is inclusive of fixed and variable local charges. The price disclosed for each retail electric provider is an example based on average usage patterns. Your actual average price for electric service will vary according to your actual electricity usage.
The rates for prepaid electricity in Houston are provided for comparison purposes and are subject to change without prior notice. The final pricing for customers will only be determined after signing a service agreement with an electric provider. Additionally, not all cities in our service areas offer prepaid electric choice, and pricing is based on the rates of the specific area.
The average price per kWh displayed for each of our retail electric providers is based on a monthly usage of 2,000 kWh and includes both fixed and variable local charges. However, please note that the prices disclosed are merely examples based on average usage patterns, and the actual average price for your electric service will vary based on your specific electricity usage.
All Houston prepaid power rates are obtained from the "Electricity Facts Label" of each retail electric provider. It is important to note that electricity service offers can be either fixed or variable, and a variable rate may change during the contract period, whereas a fixed rate is guaranteed for the entire term of the contract.